64 / 100 Powered by Rank Math SEO In very ancient times people used to worship the natural elements or things, like the rain, fire, Sun and such other things pooja. With passage of time
In very ancient times people used to worship the natural elements or things, like the rain, fire, Sun and such other things pooja. With passage of time various religions were formed, Gods and Goddesses were conceptualized with definite images, while some religions followed the concept of God as formless.
Worshiping natural elements like in the initial ages is still prevalent, though in a different way.
In India, the Hindu concept of worshipping as per what is mentioned in the ancient Hindu texts like the Vedas, Puranas etc. with specified rituals is called Puja, also spelt as Pooja.
It is a part of our culture to do puja of various Gods and Goddesses like Shiv puja, Laxmi puja, Vastu puja and numerous other pujas to appease the various deities, including pujas of various planets.
Pujas are also performed for various religious festivals, occasions and ceremonies, such as wedding ceremony, Griha Pravesh puja (puja performed before entering a new house).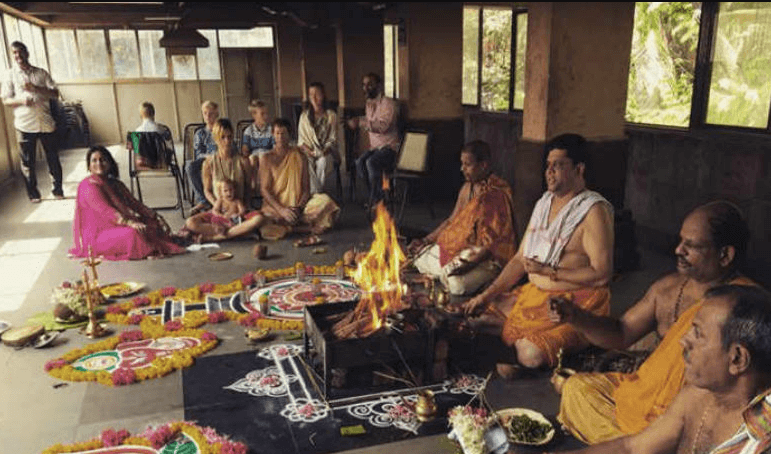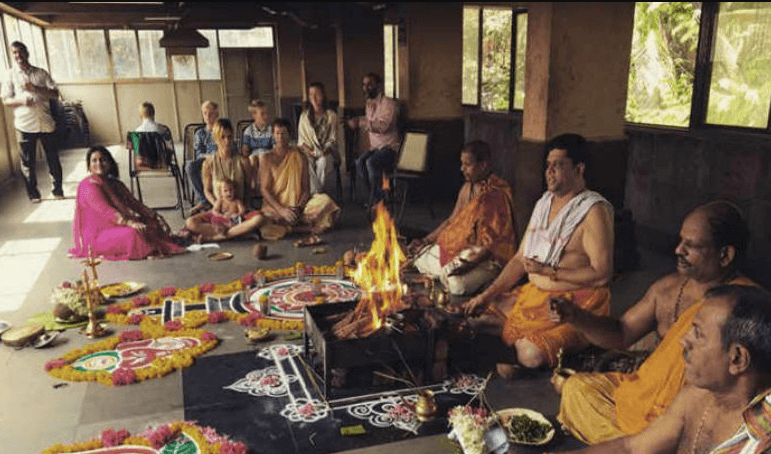 Puja meaning:-
There are many interpretation to what puja means. As per a school of thought, the literal meaning of Puja is, 'pu' which means purify and 'ja' means birth. So combined it means that performing puja cleanses and purifies the life of an individual.
Puja is to honour or revere, show respect through worship. Symbolically puja is said to mean awakening the God within the physical body of the devotee or awakening the God consciousness in the idol (mostly made of clay, wood, marble etc) of worship.
During worship, along with the offering of flowers, fruit, food, incense, lighting of lamp and other rituals as per specifications of the ancient Hindu texts, the offering of one's mind, body, soul in the process is the most important factor.
Surrendering to the Divine and the spiritual connection made with the Divine being the main intension.
Pujas are performed in temples and at home and in this age of electronic media, online puja services are becoming popular. In temples the priest (pujari or pandit) conducts the rituals on behalf of the devotee with mantras and offerings as specified, while the devotee focuses on connecting with the Divine.
At home the devotee mostly performs the puja himself/herself by invoking the deity through offerings, chanting mantras, singing devotional songs (bhajans) etc. If we note, then we will realize that the five elements of fire, earth, water, sky or ether are all included in the offerings of puja rituals in the Vedic way.
Many houses used to or still have a pujari who come on a regular basis to perform the puja of the deity. The offering of food and fruit to the deity are later eaten by the devotee and shared with family members as 'prasadam'. Daily puja might just be a simple prayer and invocation with bear minimum offerings too.
Mantras are usually chanted during performing puja of any kind and of course the personal prayer of the devotee.
The concept of puja as per Hinduism is broadly of two kinds, 'Nigama' rituals which is worshipping fire (Agni) without any idols and 'Agama' rituals which is worshipping of deity idols.
Mostly all houses have a sacred space for puja which is an alter of worship or temple with the idols or images of the worshipped deity/deities. Some houses have a separate room allocated for puja. Plates, glasses, bowls used in offerings of God and everything used in puja rituals are kept separate.
Each deity has a different list of offerings which are made, like, Lord Shiva is offered Bilva/Bilwa patra, Lord Vishnu is offered Tulsi leaves, Goddess Durga is offered Red Hibiscus etc. This is applicable to flowers, fruit, incense as the deities are said to have individual preferences.
The benefits of Puja
According to the Vedic concept, puja is performed in order to garner the blessings of in form of favours of Gods and Goddesses. As we are aware different Gods/Goddesses have their own unique attributes which also include planets pooja.
So puja is mostly done with the intension of getting protection, good health, wealth, prosperity, success, career advancement, get better opportunities, good fortune, peace, happiness and to have desired wishes fulfilled. Pujas are also performed to get relief from the malefic effect of planets, like, Kaal Sarp Dosh Nivaran puja etc. Many perform puja for spiritual attainments and there are also puja rituals which are performed with the desire of merging with Divine Supreme's energy after the soul leaves the mortal body.
Performing puja clears the individual's personal energies and also energies of the house and its inmates. No matter what form of Divine Supreme God is worshipped, the underlining desire is to be blessed with all needs being met, be it material, physical, emotional and spiritual/religious that essentially leads to a peaceful, happy life.
Along with getting puja done by pandits/pujaris and doing puja individually on a daily basis, in present time booking online puja is common due to the busy life of devotees which sometimes make it difficult to be present personally to get a particular puja performed.
In online puja facility, the puja is performed by suitable, qualified, efficient pujaris who are proficient in the puja rituals, mantras etc. for the particular puja being conducted. For example, many devotees choose to get the Kaal Sarp Dosh nivaran pooja (if in birth-chart) or Rudra Abhishek, done at the famous Trimbakeshwar temple (near Nasik) through online puja booking. The service sometimes includes live streaming of the puja or a copy of the puja process on DVD.  
It is believed that God always hears the prayers of the devotees and fulfils their wishes sooner or later, as everything happens on Divine will and order. Ideally, once a pooja has been done it is best to hand over all anxieties and worries at the feet of God and wait with patience for the beneficial outcome.